I guess the last Pope wasn't content enough being given the sendoff he had. I think I'd be pretty pleased to have such a grand farewell. But nooooo he couldn't stay dead. I guess he's pretty pissed that a Star Wars villan lookalike has inherited his job.
He's done the 'force' comeback like a dead Yoda to put the fear of Hell into people. Or really it is just a fire, a gust of wind, a camera and some nut that just happened to time his shutter on the sheer coincidence that it looks kinda popelike.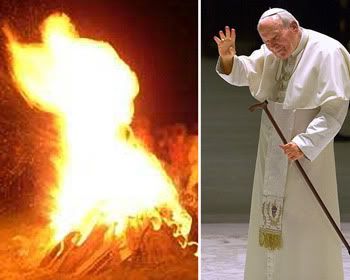 With this image you make up your own mind. I must admit it shows an uncanny resemblance to the frail choirboy cumstained robed pope with his tradmarked hunchback. It doesn't look like he's waving in his flaming resurrection. I'm more inclined to say that like he's flippin' the bird in the "fuck you Jesus you dick sucking whorebag" kinda fashion.
As an added bonus, not only do we have the Pope from Hell, we've got a heavily pregnant rather smug looking flameage of the 'Virgin'.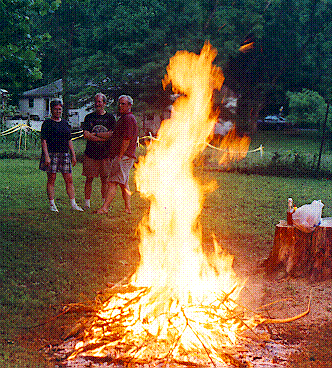 I guess this is where the saying "bun in the oven" comes from.. The audience don't look all that thrilled. They have the "Oh look its flamin' Mary again" expressions.
People could find more interesting examples of representation. Like that Nutri-grain piece that looked like ET. That was gold...